Understanding the various aspects that influence the cost and leveraging cloud cost management technologies to help find the cause(s) of these inefficiencies is critical for efficient cost control in cloud computing services.
Unexpected expenses are typically the result of a lack of visibility into current consumption patterns and historical trends, nonstandard deployments caused by unclear or nonexistent development processes, poor management, or the lack of automated deployment and configuration tools.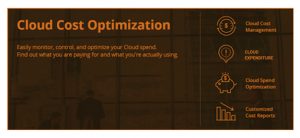 Why Is Cloud Cost Management So Important?
The way engineers design and deploy applications has evolved because of cloud computing. Computing was once limited to a big room known as the data center, which was overseen by a central operations team.
Traditional data centers had several disadvantages, including increased downtime, costly infrastructure, under-utilization of resources, and reliance on a single team, all of which contributed to inadequate disaster management approaches.
Most of these issues were overcome with the introduction of cloud computing services, which brought infrastructure closer to developers. As a result, businesses must use a cloud cost management approach to get the most out of their infrastructure while keeping prices low.
What makes cloud cost optimization different from cloud cost management?
While cloud cost management focuses on assigning, managing, reporting, and analyzing cloud expenditure, cloud cost optimization takes those insights and applies them to maximizing business value at the lowest possible cost. Optimizing cloud expenses entails not only cost reduction but also cost alignment with business objectives. An increase in expenditures that is accompanied by an increase in revenue is not always a problem.
Check Out These Best 5 Practice To Optimize The Cloud Offering Cost
1. Look for unused or unconnected resources.
Finding underutilized or unconnected resources is the simplest approach to reducing cloud expenditures. Frequently, an administrator or developer would "spin up" a temporary server to accomplish a task and then fail to shut it down when the task is over. Another common scenario is when an administrator forgets to delete storage from instances that are being terminated. This occurs regularly in the company's IT departments.
2. Employ Heat Maps
Heat maps might help you save money on cloud computing. A heat map is a visual representation of demand peaks and dips that have been calculated. This information can be used to determine when cost-cutting should begin and end. For example, heat maps can reveal if development servers can be safely shut down on weekends.
3. Idle Resources should be identified and consolidated
Addressing idle resources is the next step in lowering cloud computing expenses. A CPU utilization rating of 1-5 percent might be found in an idle computing instance. It is a big waste when an organization is charged for the entire computing instance. A critical cloud cost optimization strategy would be to identify such instances and consolidate computing jobs onto fewer instances.
4. Computing Services of the Right Size
Right-sizing is the process of analyzing computer services and changing them to the most efficient size. If necessary, Right-Sizing tools can also recommend adjustments across instance families. Right-Sizing does more than just cut cloud expenses; it also aids cloud optimization, which means getting the most out of the resources you're paying for.
5. Reserved Instances (RIs) on AWS or Azure Reserved VM Instances on Azure (RIs)
Reserved instances should be purchased by businesses that are committed to the cloud for the long run. These are bigger savings for paying in advance and committing to a certain amount of time. Savings from RI can reach up to 75%, making it essential for cloud cost optimization.
Final Verdict
Cloud computing technology has the potential to alter the IT sector, and market demand is growing, resulting in increased rivalry among cloud computing providers. As a result of rising demand, more study into the estimation structure for cloud computing cost parts is required, which will be critical in the creation of cloud cost analysis policies.